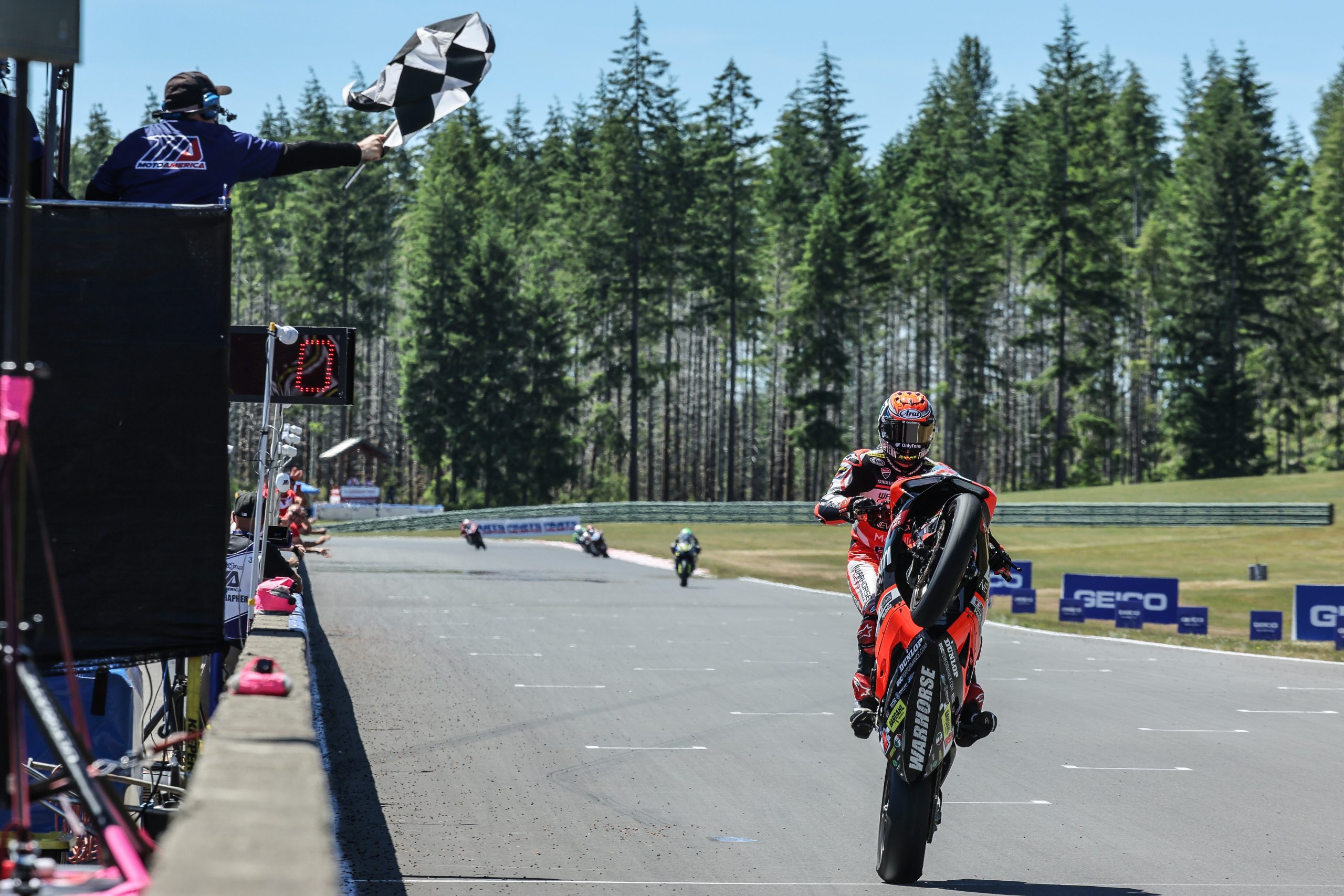 Random notes, comments, statistics, musings, and bits of trivia from the Dynapac MotoAmerica Superbikes at Ridge Motorsports Park event:
Ducati Vee Four And Yamaha Are One
Who had the fastest top speed among all the MotoAmerica riders at Ridge? It was a tie. Warhorse HSBK Racing Ducati NYC rider Danilo Petrucci reached a top speed of 163.9 miles per hour aboard his #9 Ducati Panigale V4 R on the fifth lap of the nine he ran during Friday's Qualifying 1 session. Not to be outdone, in Saturday's Qualifying 2, defending Medallia Superbike Champion Jake Gagne also reached a top speed of 163.9 miles per hour on lap three of the 13 laps he ran aboard his #1 Yamaha YZF-R1.
Lapping Up The Records
Jake Gagne held the outright circuit lap record going into Ridge, and he still holds it coming out. Gagne broke his own record of 1:39.568 when he did a 1:39.145 in Saturday's Qualifying 2. Also, Gagne and Cam Petersen were both under the race lap record in race one. Petersen eclipsed Cameron Beaubier's old record of 1:40.602 set in 2020 with a lap of 1:40.576 on Saturday. However, Gagne went even faster, setting a new race lap record of 1:40.140, which lasted all of one day. In Sunday's race two, Gagne broke his own newly minted race lap record with a fastest lap of 1:39.865.
New lap records were also set in Stock 1000, Supersport, and Twins Cup. Corey Alexander's pole-setting lap of 1:41.531 in Stock 1000 Qualifying 1 shattered by more than a second Jake Lewis's lap of 1:42.639 set last year in Qualifying 2. Also, Alexander's lap of 1:42.238 in Saturday's race one broke the race lap record of 1:42.780 set by Ashton Yates in Stock 1000 race two last year. In Supersport, Rocco Landers set a new class record of 1:42.774 in Qualifying 2, breaking the previous lap record of 1:42.863 set by Sean Dylan Kelly in Qualifying 2 last year. Anthony Mazziotto set a new Twins Cup class record of 1:46.152 in Qualifying 2, which broke the record of 1:47.535 set in Qualifying 2 last year by Landers. Hayden Schultz set a new Twins Cup race lap record of 1:46.619 in Sunday's race two, eclipsing the lap of 1:47.780 that Mazziotto set in race two last year.
The Line Was Drawn…Er, Painted
For every lap of every MotoAmerica race at Ridge, the riders must go through the chicane just past the finish line, and that includes right after taking the checkered flag. After winning Saturday's Supersport race, Josh Herrin narrowly escaped having his victory immediately taken away. Herrin was distracted by the signature celebratory wheelie he was doing and missed the chicane. Realizing his mistake, he quickly set the front end down, did an impromptu u-turn, and managed to go through the chicane. That's called "counter-course" and, even though it didn't cost him the win, he did receive two penalty points. After the incident, late on Saturday, Race Control painted a line across the track just past the start of the chicane so that, if a rider crosses that line, they have missed the chicane and cannot undo their mistake without receiving a penalty.
Incidentally, Stock 1000 rider Jeremy Coffey, who is from Vancouver Washington, races in the Washington Motorcycle Road Racing Association (WMRRA) when he is not competing in MotoAmerica rounds, and he's logged a lot of laps around Ridge Motorsports Park. WMRRA does not require that the riders go through the chicane on just the opening lap of their races. Coffey momentarily forgot which series he was racing in, realized he was going a little too fast to make it through the chicane, and took out Geoff May in Stock 1000 race one. Both riders crashed, and Geoff May suffered a left hand injury that prevented him from joining the red-flagged-and-restarted race. He also was unable to start Saturday's Superbike race one. And then, he found out that he had also suffered a shoulder separation, which ruled him out of Sunday's Stock 1000 and Superbike races, too. May hopes to be recovered and fit to race next weekend at Weather Tech Raceway Laguna Seca, but it won't be easy.
Roll The Bones
Speaking of injuries, which are a tough part of road racing, a few riders unfortunately got hurt at Ridge. Besides the aforementioned May and also Jake Lewis, whose fractured thumb we detailed in a story published this past Sunday morning, Michael Gilbert broke his left femur. What's worse is that he had already broken his right ankle in a crash at Road America. Gilbert had surgery on his femur last night in Washington, and he is hoping to be able to fly home today. He is most certainly out for WeatherTech Raceway Laguna Seca, and it is not yet known when he will be able to return to racing.
Another Seven-Fiddy
There was yet another rider aboard a "Supersport Next Generation" Suzuki GSX-R750 at Ridge Motorsports Park. Venezuelan Alejandro Thermiotis switched from a Yamaha YZF-R6 to a Team Hammer-built Suzuki GSX-R750, equipped with a Team Hammer-developed-and-marketed electronic throttle kit. All told, that's eight riders (including Jordan Tropkoff, who debuted his GSX-R750 at Road America, did not race at Ridge, but is entered to race again at Weather Raceway Laguna Seca next weekend) who are now aboard the venerable three-quarter-liter motorcycles in MotoAmerica's middleweight sportbike class.
Her Story Becomes History
Finally, we couldn't call this column "Duly Noted" if we didn't duly note the historic accomplishment of Kayla Yaakov from Biglerville, Pennsylvania. After celebrating her 15th birthday on Friday, Yaakov won Sunday's SportbikeTrackGear.com Junior Cup race aboard her #31 Altus Motorsports Kawasaki Ninja 400. In doing so, she became the first female in history to win a MotoAmerica race. In addition, she became only the second female in all of AMA history to win a road race, joining Elena Myers Court, who, in 2010, became the first female ever to win an AMA road race. Congratulations, Kayla, and we know your win on Sunday at Ridge was the first of what will be many more race victories to come.
For the full 2022 MotoAmerica schedule and to purchase tickets for MotoAmerica events, click HERE
For information on how to watch the MotoAmerica series, click HERE