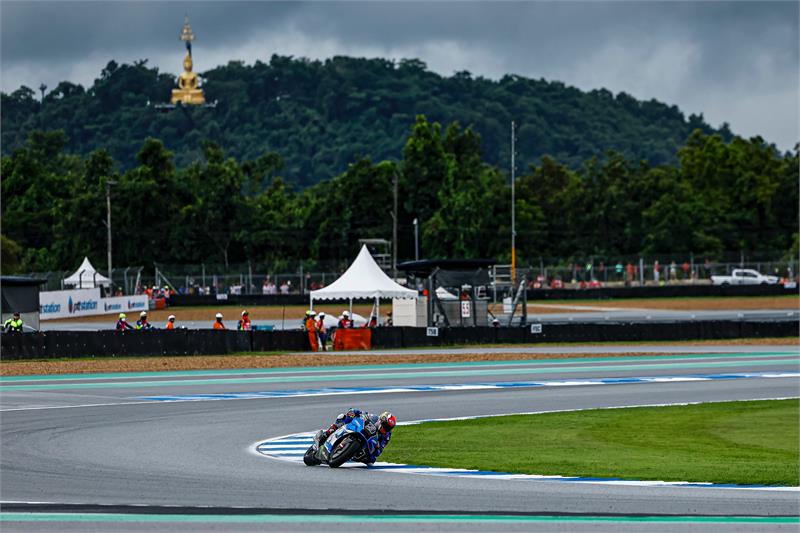 MotoAmerica Medallia Superbike rider Danilo Petrucci is well-known to be a rain rider, and the deluge in Buriram, Thailand did not thwart the Handyman's effort to finish Sunday's MotoGP race, even though he'd never ridden the Suzuki GSX-RR in the wet before. Petrucci finished 20th, just a week removed from wrapping up the 2022 MotoAmerica season aboard the Warhorse HSBK Racing Ducati NYC Panigale V4 R.
With the passionate fans packing the grandstands at the Chang International Circuit, a huge thunderstorm swept through the area, which delayed the start by almost an hour. And, even with the delay, visibility was still a big issue as the 25-lap race finally got underway, making it particularly tough for those further back on the grid, including Petrucci who started from 24th. Facing a monumental task, the Italian managed to finish the race in 20th place, and he certainly enjoyed the experience.
"First off, I would like to thank the entire team for their help and the big effort they put in," Petrucci said. "It's been a huge source of pride for me to ride this bike in this team. They are a really amazing group, and they gave everything to find the best setup for me. I struggled today because I didn't have any wet track time, and I found it hard to suddenly ride in the wet, but I relaxed into the race and tried to get into the points. It wasn't possible, and I finished 20th, but I'm still really happy to have been here and able to race with Suzuki." 
Team Suzuki ECSTAR Manager Livio Suppo commented, "It's really hard when you've only had dry track time and then suddenly you're faced with a very wet track like we had. Nobody had done laps in the wet, so it's a case of trying to find the best setup on the spot and taking a gamble. Danilo did a good job, and his pace was decent considering he's never ridden our bike in the wet. It's been a pleasure to have him with us, and we wish him all the best for the future."
And, what does that future hold for Danilo Petrucci? Hopefully, a good amount of rest and relaxation to start with, and then, we hope to see him back racing in America, and in the 2023 MotoAmerica Superbike Championship.