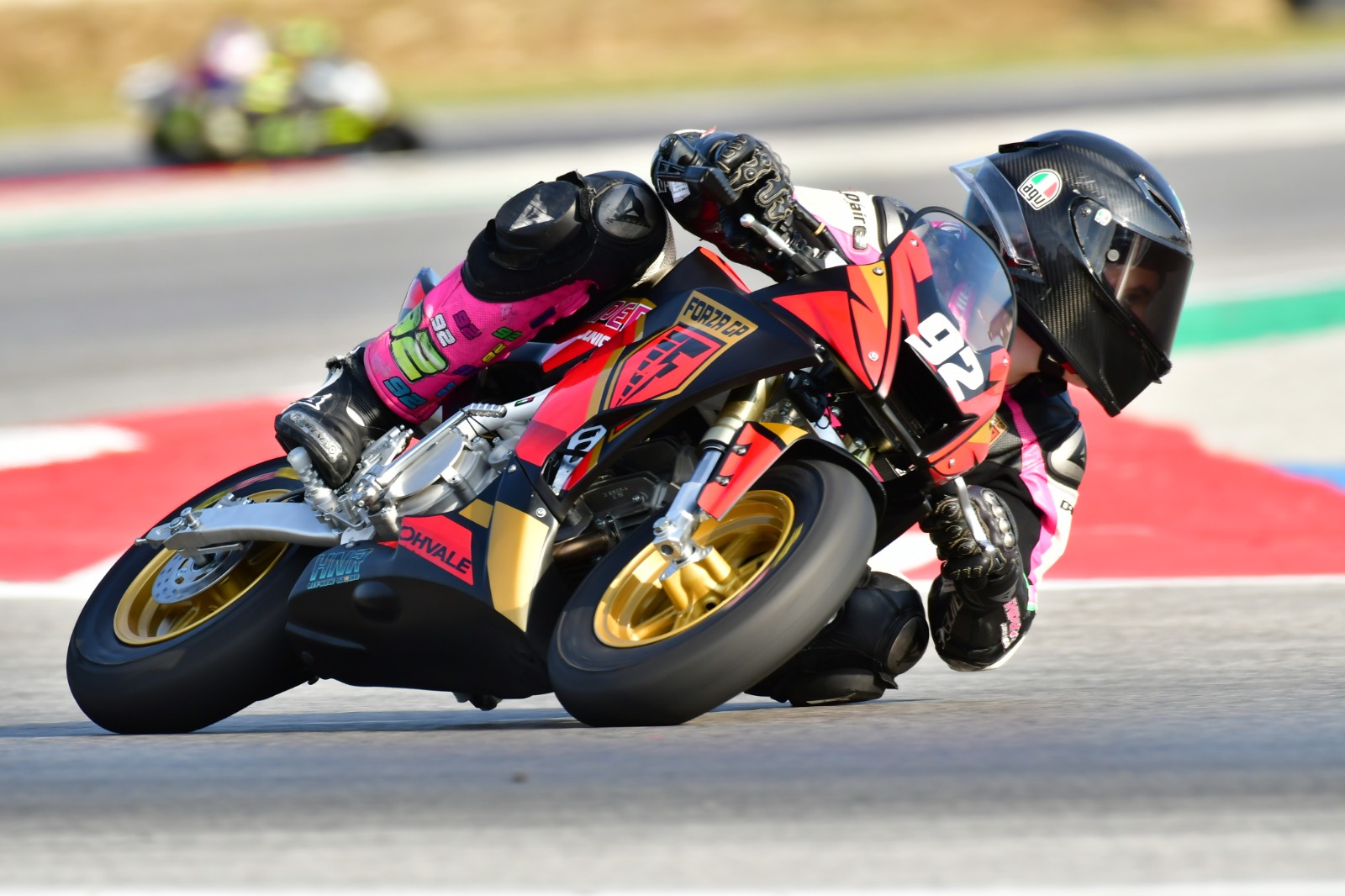 The following is from ForzaGP…
The ForzaGP Snipers Junior Team rider continues to impress the road racing world by winning both races and setting a new lap record at Adria Raceway in the European Mini Road Racing Championship.
Rossi Moor (Portland, Oregon) is officially the American and European mini road racing champion after remaining unbeaten at national and international Ohvale events in 2020. Moor, on his ForzaGP Snipers Junior Team Ohvale 190, secured pole position, and won both races during the FIM sanctioned European Mini Road Racing Championship. The event brought young road racers from all over Europe together to test their skills against the best in their age group. 
In FP1, Moor had a high side and suffered a minor neck injury. Pushing through during FP2 and FP3, he put in times only one-tenth off the lap record, originally set in 2018. By race one, the team had dialed in the 2020 chassis, which is slightly different than what Rossi rode in the MotoAmerica MiniCup series on the 2019 Ohvale 190.
With a strong start in race one, Moor was able to create a gap. After the13 laps, he won by a margin of over nine seconds and broke the lap record by almost a second with a 56.034. For race two, Moor was feeling confident and put his ForzaGP Snipers Junior Team bike on the ragged edge. After the final lap of the 13-lap race, Moor had won by an astounding 15 second margin and reset the lap record with a blistering 55.894.
As the intense weekend ended, hearing the American national anthem at an international road race event was emotional for Rossi and the team. His already impressive accomplishments are hopefully a sign of what this young talent has ahead in his bright future.